Redefining data management to solve mass data fragmentation.
One Platform. One UI. Run Apps.
Cohesity ushers in a new era in data management that solves a critical challenge facing businesses today: mass data fragmentation. The vast majority of enterprise data — backups, archives, file shares, object stores, and data used for dev/test and analytics — sits in fragmented infrastructure silos that make it hard to protect, expensive to manage, and difficult to analyze. Cohesity consolidates silos onto one web-scale platform, spanning from the data center to edge to cloud, and uniquely empowers organizations to run apps on that platform — making it easier than ever to back up and extract insights from data.
| | |
| --- | --- |
| End-to-end protection for your virtual and physical workloads, databases, applications and storagewith a single, simple web-scale solution. | |
| | |
| --- | --- |
| | Consolidate your backups, file shares, object stores and data for dev/test and analytics on a web-scale data management platform. |
| | |
| --- | --- |
| Monitor your global environment in real time. | |
Cohesity C4000 Series
Building blocks for the Cohesity DataPlatform

Each Cohesity C4000 hyperconverged node provides compute, flash and HDD capacity to consolidate data and execute workflows. Scale your capacity as needed, starting with as little as three nodes, and scale out linearly by adding individual nodes.
Technical Specifications for Cohesity C4000 Series Appliances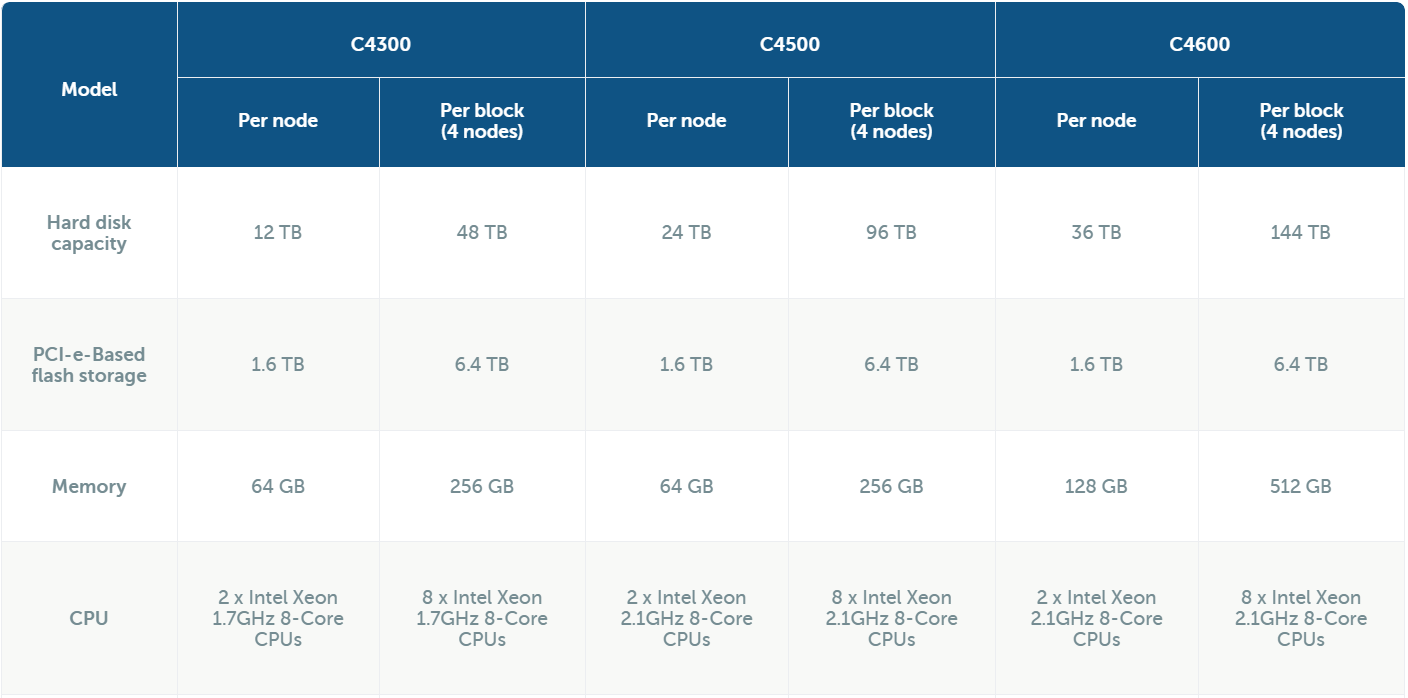 Cohesity C6000 Series
Cohesity C6000 Series is a dense hybrid hyperconverged storage appliance that supports up to 168TB per appliance. Ideal for data protection, backup target, and file and object use cases, the C6000 augments the current C4000 Series platform with extended capacity and optimization for NAS deployments at scale.

The Cohesity DataPlatform runs on all C6000 Series models to deliver unlimited scalability, single UI, leading deduplication, software-based encryption, enterprise search, and powerful cybersecurity.
Technical Specifications for Cohesity C6000 Series Appliances