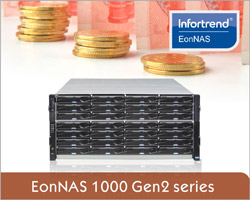 The utility and versatility of unified storage makes it attractive to SMBs who wish to leverage multi-role storage. Operating on file and block levels, our EonNAS products deliver outstanding value in NAS, SAN, IP SAN, and even DAS duties – all on a single system. We're therefore very proud to announce a new generation of affordable entry-level rackmount systems designed for SMBs: the EonNAS 1000 Gen2 series.
Taking design cues from the recently-launched EonNAS 3000 Gen2 series, EonNAS 1000 Gen2 systems share the same compact 500mm-deep chassis, reduced from 650mm in the previous generation. This allows for an easier fit in cabinets even for space-constrained SMBs, as well as improving back panel cooling and access.
EonNAS 1000 Gen2 systems bring unmatched features and capabilities for their price range. We are launching three models initially: the 2U EonNAS 1008C-1 Gen2 (8-bay) and EonNAS 1012-1 Gen2 (12-bay), and the 3U EonNAS 1016T-1 Gen2 (16-bay). Systems support scalability via JBOD expansion enclosures, whereas competing products in their segment do not allow scalability at all. The 16-bay models scale up to a massive 128 drives, providing SMBs with room for growth and superb return on investment.
All systems include redundant 80 PLUS power supplies to conserve energy and lower operating costs. The 12-bay/16-bay models support optional host boards, with 10Gb/s iSCSI and 16Gb/s Fibre Channel available as upgrades from the default 1GbE. These high speed standards are also a unique proposition, typically not offered by competing arrays. Add the robust Solaris ZFS file and operating system, unlimited snapshot plus secure remote replication (no additional licenses needed), and it's clear the new EonNAS 1000 Gen2 series is by far the most advanced and attractive entry-level NAS range available to SMBs.
EonNAS 1000 Gen2 systems are scheduled for global launch by the end of October.